FIREFLY™ photoluminescent products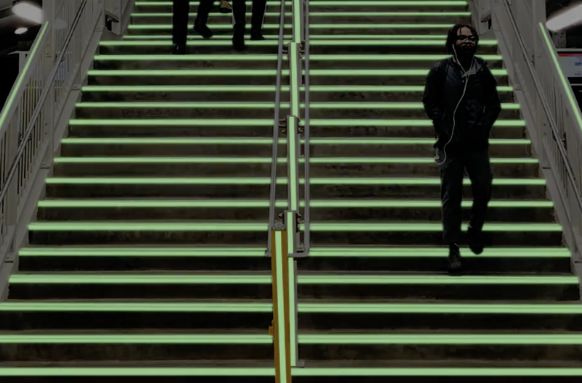 Train stations, platforms and tunnels serve as an important public function. Many people rely on the public transit system for travel.  Photoluminescent exit path markings assist in safe evacuation during times of need. Safe evacuation of subway stations, train stations and platforms is vital in rail transit systems.  Emergency preparedness is a critical task related to passenger safety.
Population growth as well as increasing demand for subway urban rail transit network throughout the world have changed the subway stations to one of the crowded public places. Despite its critical role in passenger traffic flow in large cities, the underground construction of subway network and the location of the stations might turn an incident to a catastrophe.
Regarding the probability of incidents in the subway, there is always a possibility of emergency evacuation due to terrorist activities, fire, or other accidental calamities. At the time of threat or disaster, emergency evacuation is considered as a potential measure for saving lives and an effective strategy to address the risk of flood, earthquake, explosion, and other sudden incidents. Therefore, subway safety evacuation is regarded as an important issue in the design of subway incident prevention and safety management of subway systems. This concept emphasizes the safety of population and their directing to the safe place before the damage is intensified.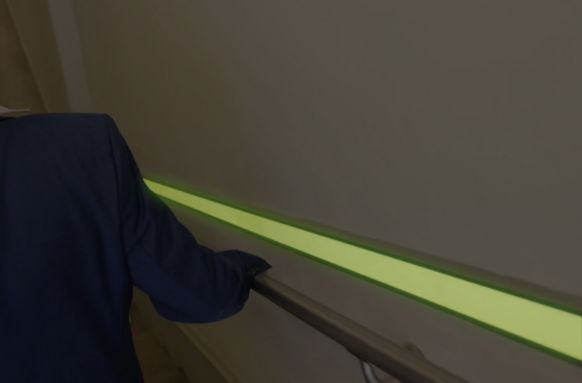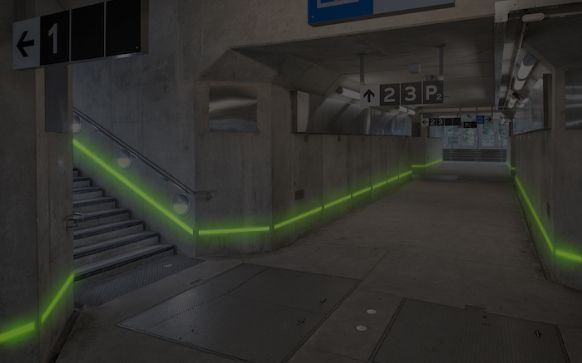 Why Keep your Transit Facilities Safe?
Your Transit Facilities are high traffic areas and require all pedestrian and transit users to feel safe as they walk through the facility at night.  Dark tunnels and stairways deter people from feeling safe. If the electricity fails, a lighting back up system is required for users to find their way to safety.
The photoluminescent striping and signage is self charging, power supply not required, a dependable source of illumination when properly charged.
Why utilize FIREFLY™ Photoluminescent LLEPM (Low-Level Exit Path Markings) and HPPL (High Performance Photoluminescent)?
FIREFLY™ addresses the needs of safe evacuation from buildings and transportation corridors.
FIREFLY™ products are manufactured using the highest quality materials in terms of durability and safety.
SAFETY,


WHERE YOU NEED IT MOST.
Ensuring that the exit signs can be easily seen when the power fails is an important consideration.
FIREFLY™ Photoluminescent signs and Low-Level Exit Path Markings are manufactured from material that is capable of glowing in the dark, which can allow these signs to be seen without the need to install emergency lighting systems.

Photoluminescent exit path markings standards are intended to provide minimum requirements for photoluminescent exit path markings that will aid in evacuation from buildings in the event of failure of both the power and back-up power to the lighting and illuminated exit signs. Photoluminescent material is charged by exposure to light and will emit luminance after the activating light source is unavailable. The markings covered by this standard are not designed to provide enough light to illuminate a dark egress path, but rather will provide luminescent signs and outlines of the egress path, stairs, handrails, and obstacles, so that occupants can discern these egress path elements in dark conditions. The markings are generally required to be located at a low location in case of smoke and to be readily seen, such as in a crowd situation. They are in addition to, and not as a substitute for, any other signage required under the Building Code, such as electrically illuminated exit signs with electrical back-up power required under § 27-383(a).

Implement FIREFLY™ Photoluminescent LLEPM (Low-Level Exit Path Markings) and HPPL (High Performance Photoluminescent) in your Stations, Platforms and Tunnels.
stations, platforms & tunnels
FIREFLY™ Photoluminescent PRODUCT USES
Exit doors & exit stairway shafts
Door-mounted and wall-mounted exit signs
Door handles or opening devices on emergency exit doors
The entire perimeter of doorframes of exit doors
Identification sign for floor and stair name
All handrails and handrail extensions should be marked with a solid and continuous strip of Photoluminescent
Exit stairs
The entire horizontal leading edge of each step
The leading edge of all landings
Floor perimeter demarcation lines
Landing markings
Obstacles (e.g., pipes, hoses, etc.)
Final exit doors
USE FIREFLY™ PHOTOLUMINESCENT HPPL AND LLEPM TO ENHANCE SAFETY AND VISIBILITY FOR SAFE EVACUATION IN PUBLIC PLACES